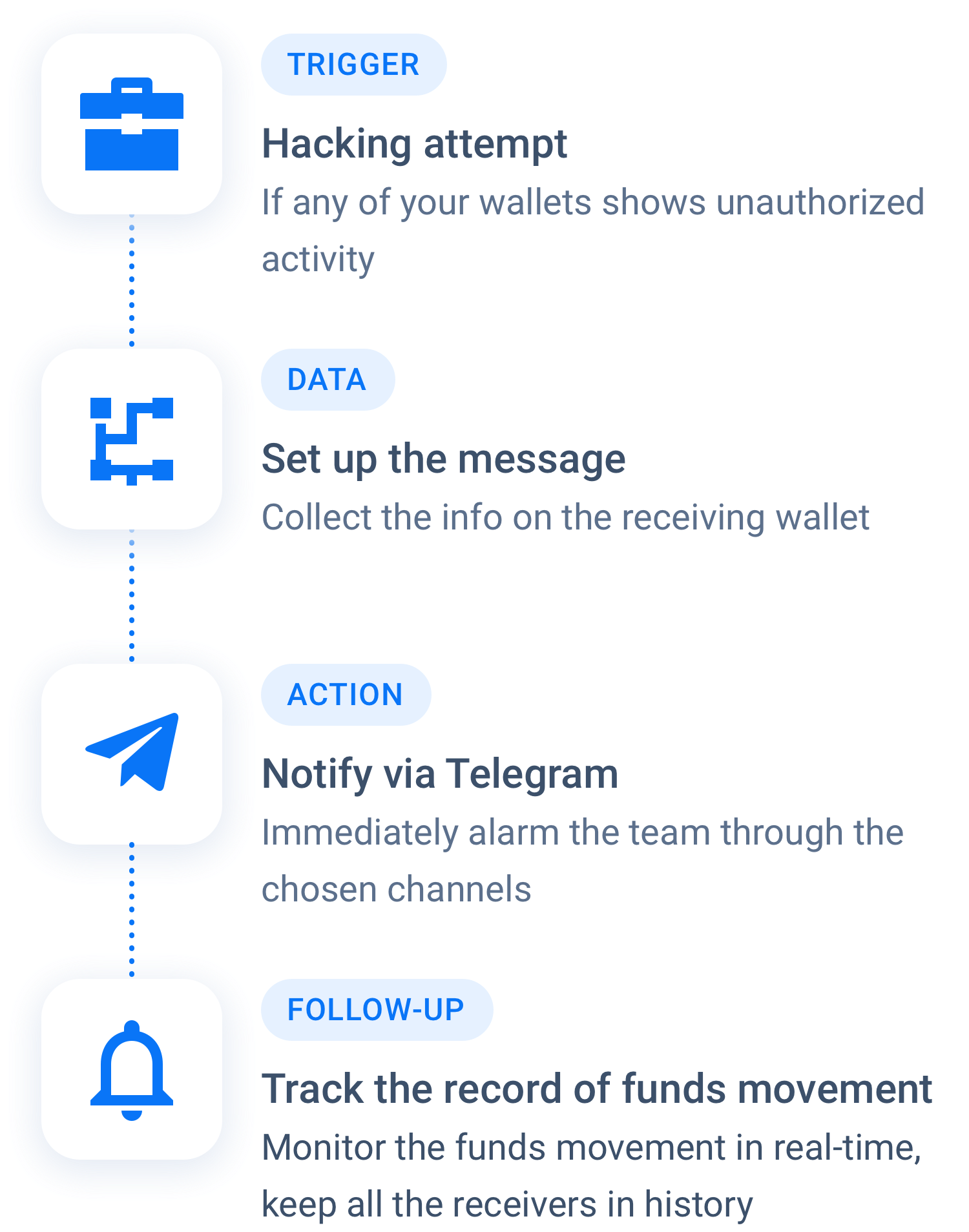 Ready-to-Deploy Security Setup
TRACKR gets you alerted of a hacking attempt or unauthorized outgoing transactions from your addresses.
No need for manual intervention or having to
constantly check for activity with a real-time monitoring setup.
Security benefits from the real-time monitoring of blockchain addresses
Actionable Alerts
PARSIQ provides the ability to be alerted of any outgoing transactions, even down to the blockchain mempool level.
Timely Reacting
Staying alerted, take necessary measures and eliminate the vulnerability, thus preventing the hacker from stealing the funds.
Customization
Integrate the solution for any blockchain supported by PARSIQ including Bitcoin, Ethereum, BSC, Solana, and others. Webhooks and APIs also available.
No headache with deployment of your own infrastructure and implementing tools from scratch
Even with millions of addresses, you company can monitor balances on crypto addresses in real-time at scale. With Smart Triggers deployed on PARSIQ platform, you can transparently check that your funds stay in the designated wallet.

Our team will help with the setup. You can also whitelable the receiveing addresses you don't want to be alerted for. No private info needed, all that's required are public addresses.
Pricing
One-time fee for the custom TRACKR setup. Additional purchase of subscription may be required to surpass the Action limits. Read more on the Pricing page.
Proactive Monitoring
🔥 $199
Monitor wallet activity in real time and be immediately notified in the event of unauthorized activity through a chosen channel (e.g. Telegram).
80% discount for being proactive
Retroactive Tracking
$999
Users who have been affected by hacks can monitor and record the subsequent splits and movements of funds across wallets to the point they reach a CEX.
2 steps to secure your funds
Our team is here to help you build the monitoring solution. The entire installation process will take you less than an hour.
Submit your email;
Get assisted in setting up the monitoring solution.
PARSIQ Helps Coinmetro Exchange Prevent A Bigger Hack
CoinMetro exchange experienced a security breach. Coinmetro noticed the hack immediately since it was monitoring its addresses with PARSIQ. Within 7 minutes CoinMetro took necessary measures and eliminated the vulnerability, thus preventing the hacker from stealing more funds.

KuCoin hack & PARSIQ powered recovery
PARSIQ utilized its innovative technology to do a "snapshot" of the state of its token holders before the KuCoin security breach. A snаpshot contains information about the possessions in the wallet addresses, displaying the exact amount of funds before the breach.